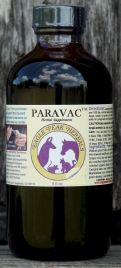 4 Oz. or
8 Oz. Bottle
Create An Environment In The Gut Hostile To Some Parasites. Most Effective Against Coccidia.
Paravac™
Is Used To Help Expel Parasites, Tone The Digestive Tract And Assist With Internal & External Fungal Infections.

Helps create a healthy environment for beneficial organisms such as acidophilus, yet is hostile to some parasites.

Officially tested by Dr. David Anderson at Ohio State University.

Found to be most effective against Coccidia, even surpassing current drug therapies.

Safe during pregnancy and lactation with Camelids.

Recently several ranches have found it to be effective against Eimeria macusaniensis (EMac).

Primary Ingredients:

Fresh Organic or Wild Black Walnut
Green Hulls

Dry Organic Wormwood Leaf

Dry Wild Oregon Grape Root

Dry Wild Quassia Wood

Dry Organic Clove Buds

Fresh Organic Ginger Root

Dry Wild Cascara Bark

Dry Organic Marshmallow Root

Certified Organic Grain Alcohol

Distilled Water


CAUTION: NOT INTENDED FOR USE ON HORSES due to a possible allergic reaction to Black Walnut.


Dosage Info:
For Large Animals, give orally, 2 ml per 100 Lbs. of animal weight daily for 14 days.

For Dogs, 3 weeks and older, as follows:
20 Lbs. - 12 drops
40 Lbs. - 16 drops
60 Lbs. - 20 drops (1 ml.)
Mix with meat or other treat AM &PM for 9 days or more. Can also be given orally, between lip and gum.

For Cats, 1 moth or older, as follows:
5 Lbs. - 4 drops
10 Lbs. - 6 drops
15 Lbs. - 8 drops
Mix with wet food, meat or other treat AM & PM for 9 days or more. Contains alcohol which most cats do not tolerate, so it is best to not give orally to cats.