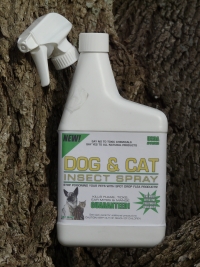 Comes In:

1 Quart Spray

View Front Label

Dog & Cat Insect Spray
Kills Fleas, Ticks, Ear Mites Mange &
Promotes Healing Of The Skin.
DO NOT USE On or Around Exotic Birds

Spray Directly On Pet's Coat & Rub In Around The Ears, Tail & Stomach Area To Kill Ticks, Fleas & Mange.

Lightly Spray In The Ears To Kill Ticks, Mites, Bacterial, Fungal & Yeast Infections. Periodically Repeat For Prevention.

Spray A Light Mist Over The Top Of The Animal's Back To Repel Flies & Mosquitoes.

Protect The Animal's Eyes When Using On Or Near The Face.

Will Not Sweat Off Like DEET Products Or Other Natural Insect Repellants.

For Topical Use Only. Ready To Use. Do Not Dilute. Shake Well Before Use.