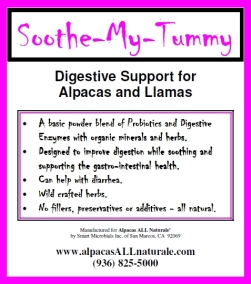 8 Oz. Bag
View Back Label

Click Here For
Article
"Putting Together A
Natural Barn Kit"
In September Issue Of
Alpacas Afield
On-line Magazine

One Of Our Signature Products - Manufactured Exclusively for Alpacas ALL Naturale'.
Soothe-My-Tummy
Is A Gastric Aid That Is Easy To Use & Works Great For Bouts Of Diarrhea Or Stressful Situations That May Cause Ulcers. It Is Safe For The Smallest Member Of The Herd & Pregnant Moms.
It Is A Proprietary Blend Of All Natural Ingredients That Promote Digestive Health In Alpacas & Llamas. The Ingredients Include:

MARSHMALLOW

SLIPPERY ELM

FENUGREEK

QUEEN OF THE MEADOW

CHAMOMILE

PEPPERMINT/SPEARMINT

VALERIAN ROOT

PRO-BIOTICS & BEE POLLEN
Soothe-My-Tummy Can Be Top-Dressed On Feed, Mixed In Water & Given Orally Or Added To Moistened Beet Pulp.
It Is Easy To Carry To Shows & Has A Long Shelf Life.